Upcoming Events
September
9/12 – Junior High Back to School Night – 6:00PM – 8:00PM @ Lower Campus
9/27 – School Picture Day for both campuses
October
10/7 – First Quarter Ends
10/8 – CLA – Ola'a Family Fest – 10AM – 4PM
---
Ola'a Family Fest 2022
On Saturday, October 8th, from 10AM – 4PM, we will be holding the first, Ola'a Family Fest. This day will be fun filled family day for the residents of our community with awesome games and activities, amazing local music and performances from our students, ono food from local food trucks, and a delightful country market.
Admission is FREE! Game wrist bands start at $5 for 5 and under, and $10 fro 6 and above for unlimited play for all games.

We will be sending home tickets for our frozen steak fundraiser next week. Tickets are $25 for 4/8 oz steaks. Each family will get 2 they can sell. If you're not able to sell your tickets, simply return them (specific instructions will be listed in ticket envelope). Steak pickup will be on Friday, October 7th from 2:00PM – 6:ooPM at the upper campus.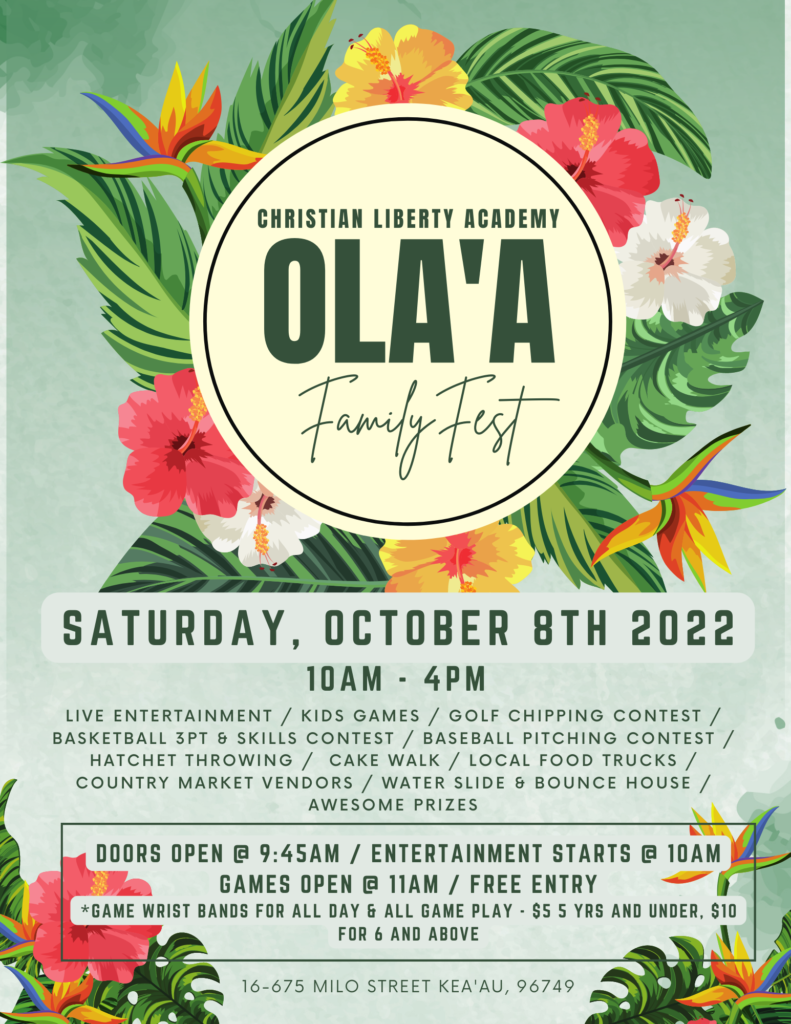 ---
Ola'a Family Fest T-Shirt
Support the first Christian Liberty Academy, Ola'a Family Fest, by sporting the official t-shirt!
In addition to wearing it on Saturday, October 8th, for the Ola'a Family Fest, students are able to wear this t-shirt to school on Mondays with CLA Lands End bottoms (*no jeans) and on Fridays with jeans or CLA Lands End bottoms.
Click on the link below to order yours. Orders must be submitted by Friday, September 16th.
Don't Forget
Emergency Contact Information
If you have yet to submit your emergency contact form, please make sure to do so as soon as possible.
School Supplies
At the start of the school year, families were asked to bring in general supplies. If you missed the list, you can find it at the top of this attachment.
You can turn in one set of supplies per household to the elementary or high school office.
---
Parent Corner
Watch this week's video, "Honor Mother and Father", from elementary and junior high administrators, Andrea and Damien Shrinski.
---
Super Fall Rummage Sale Fundraiser
Friday, September 23rd & Saturday, September 24th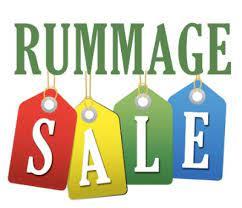 Donations of items can be dropped off at the lower campus Rosie'O Pavilion or at the upper campus by the former Canefire Kitchen.
Sponsored by Christian Liberty Academy
Thanks for your support & donations!
---
Students of the Week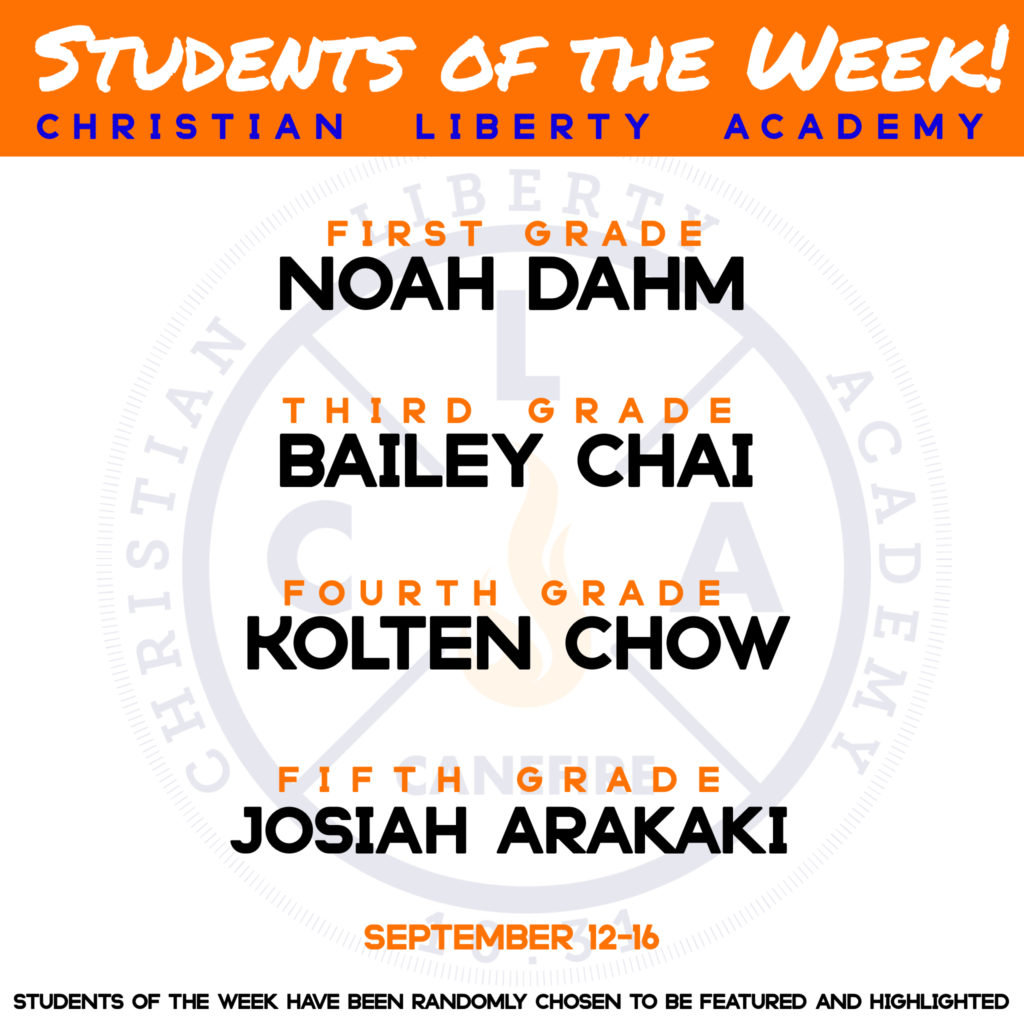 ---
High School Sports
Girls' Volleyball
Saturday, September 10th – CLA @ Kealakehe – 5:00 PM
*Practice: M-F from 3:00 PM – 5:00 PM on non-game days
Air Riflery
MEET – Saturday, September 10th @ KS – 10:00 AM
MEET – Saturday, September 17th @ Hilo – 10:00 AM
Cross Country
Saturday, September 10th – Cross Country Meet @ Kamehameha – 9:00AM