Big Island students win Blue Planet Foundation's Energy Innovation Design Challenge
KEAAU, HI—This week, Blue Planet Foundation presented students at Christian Liberty Academy on Hawaii Island with a $2,000 scholarship for their winning video entry in the clean energy nonprofit's second annual Energy Innovation Design Challenge.
Launched each year at Blue Planet's Student Energy Summit in November, the Energy Innovation Design Challenge tasks students across the state with developing and testing prototypes of real-life energy innovations. Students team up to create three- to six-minute videos showcasing their ideas and prototyping their solutions, using the design-thinking methodology they learn at the Summit.
"The Energy Innovation Design Challenge gives students the opportunity to bring their ideas for Hawaii's clean energy future to life and inspires them to turn lessons from the classroom into action in the community," stated John Cheever, Education and Outreach Coordinator at Blue Planet Foundation. "This year's winning team—an enthusiastic group of student athletes—impressed us with their creativity in tackling an everyday energy challenge at their school: efficiently cooling their gym for games and matches."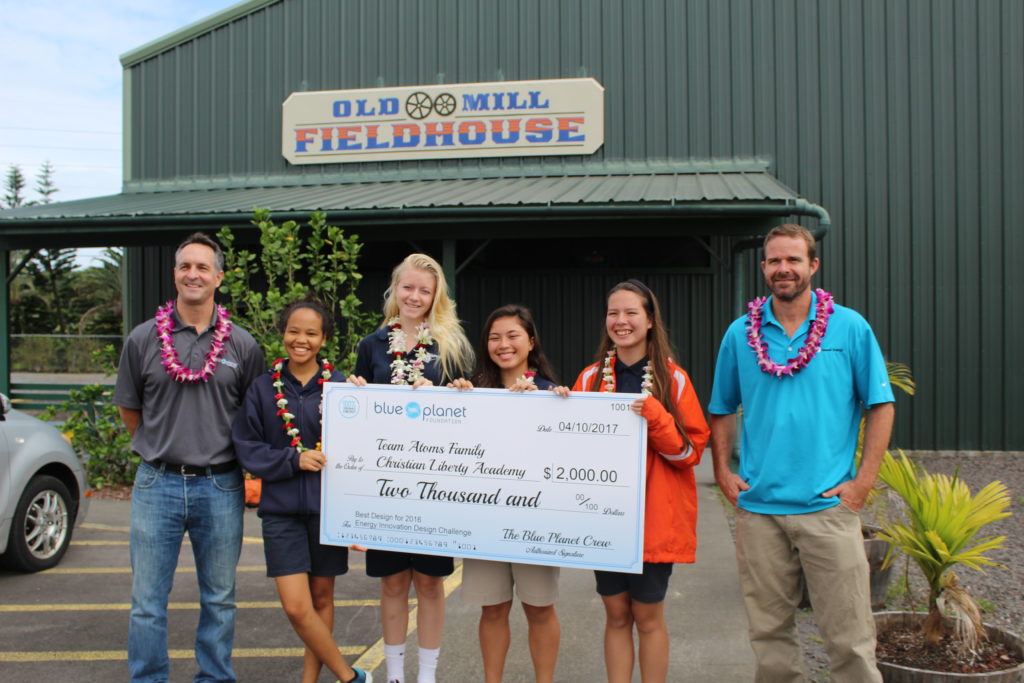 Also known as Team "Atoms Family," 11th and 12th graders Roza Robinson, Chantal Koon, Mary Pratt, and Rosalyn Allen accepted the award for their winning video at a ceremony at the school's campus. They were joined by their teacher and advisor Lisa Mason, Blue Planet's John Cheever, and Graceson Ghen from Hawaii Energy. Blue Planet partnered with energy efficiency experts at Hawaii Energy and engineers from Oceanit to make the Design Challenge a reality.
Team "Atoms Family" produced an inspirational video that walked through each stage of the design-thinking process: (1) empathizing by observing and developing an understanding of the problem of efficiently cooling their gymnasium; (2) defining the problem based on those observations; (3) ideating by generating as many ideas as possible for potential solutions; (4) prototyping by researching and building working examples of those ideas; and (5) testing their prototypes before repeating the process until they achieve a solution. In the end, the group of student athletes successfully tested a prototype for an energy efficient system—dubbed "Coolium"—to cool their gym during games.
A panel of distinguished judges—comprised of educators, community leaders, and clean energy experts—selected the winning team.
"With this initiative, we're challenging tomorrow's leaders to start creating the future today," said Francois Rogers, Blue Planet's Special Projects Director. "The dedication and imagination of these students show that they are already thinking about what's possible for Hawaii's 100% clean energy future. They're ready to be part of the solution."
# # #
About the Blue Planet Foundation
Blue Planet Foundation is a nonprofit organization committed to clearing the path for 100% clean energy. We inspire leaders to change the rules and accelerate cost-effective, secure, renewable energy. We inspire communities to adopt smart, replicable energy solutions. We inspire everyone to believe in the power and possibility of a future beyond fossil fuels.